What is it like to write a show for the Cabaret of Dangerous Ideas (#codi15)? Well, as I make the final preparations for my own show, Back to the Statistical Future (26th August, Stand in the Square, 3pm, just £8 per ticket!), I thought I would share some reflections on the process of developing a show for the Edinburgh Fringe that is based on academic and research areas, but is accessible to a wider audience. And also on the nerve-jangling experience that is selling real tickets to real punters – and using social and other media to help with that!
So, firstly a wee bit of background.
Back in 2013 Beltane Public Engagement Network – of whom I am a long term fan/member/participant/event junkie – decided to create a new show for the Fringe. It was to be a light hearted academic and research led strand of one-off events for smart audiences. And this "Cabaret of Dangerous Ideas", was to be a co-production with the lovely experienced production company Fair Pley and the unstoppable ball of energy and obscure facts that is Susan Morrison (stand up, Bright Club compere and enthusiast, and Director of the Previously… History festival). You can hear the original pitch, filmed outside that first venue, here: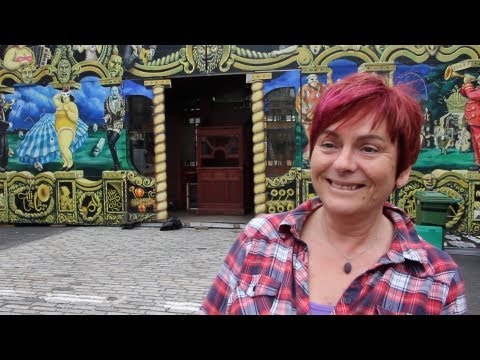 That first year was an experiment (read more about our EDINA show at CODI13 here) that led to an amazing CODI (as it became known to insiders/Twitter) run in 2014. Having rushed through prep for our first CODI show, we were keen to be better prepared and planned for our 2014 show, What Skeletons Are in Your Closet?. Looking across the EDINA activities we were keen to highlight and thought would be of interest to Fringe audiences we decided that the Statistical Accounts of Scotland were an ideal candidate.  The show sold well, got some lovely comments and attention, and was great fun, and so for 2015 we are going Back to the Statistical Future, and here's how we are doing it…
Where do you start?
The whole idea of the Cabaret of Dangerous Ideas is to actually have a "dangerous idea" – something challenging or provocative. Last year we – myself and my lovely co-host and Statistical Accounts of Scotland editorial board corresponding member Helen Aiton – focused a lot on the forgotten members of society, and the ways in which the Statistical Accounts capture and share their lives. This year we wanted to do something a wee bit different, but we also wanted to be able to build on the best bits of the 2014 show, things like the background to the accounts including, as Susan calls it "the world longest letter" – our enormous physical list of all the questions that had generated the Accounts in the first place (indeed we discovered 6 additional questions last year when researching the show!).
So there we were, in autumn 2014, trying to think about what might make for a good show… because planning for a Fringe show really has to start about a year ahead to make the various deadlines. At this point we knew the Scottish Referendum result but we also knew that there would be a general election before the Fringe and that the Fringe programme deadline would pass before we knew the impact of that. Now, why would that matter for a show about 18th or 19th Century Scotland? Well, for our ideas to be dangerous and engaging they also needed to be timely and that meant making some sort of connection to the current context.
I love deadlines. I love the whooshing noise they make as they go by.
One of the brilliant things about CODI is that the production team have set a lot of early deadlines to make sure those terrifying Fringe form deadlines start to look easily achievable! This year pitches for show were due in person by the end of November or by video in early December. That means you need to know roughly what you want to talk about and roughly how you plan to do that 9 to 10 months ahead of your show. It means much of the hard work is done long before you officially start writing.
So, in November Helen and I started thinking about ideas and decided to take a wee risk. We decided that such was the focus on austerity and cuts that, no matter what the election outcome, there would be a great social policy angle tying the historical picture in the Accounts to modern day Scotland.
But then we needed a name…
Thankfully all of the buzz around the upcoming anniversary of Back to the Future inspired us. The film had been interesting partly because 50s fashions and mid-80s tailoring actually has a lot in common, which meant that whilst social attitudes and pop music provided fun contrasts, a lot of what makes that film great is the familiar being re-experienced in an unfamiliar context. With what we had found in the Second Statistical Accounts on part time librarians, pressures to pay to school your children, gentrification, increasing scrutiny of those receiving poor relief and the help of the parish, we knew we had some parallels and a perfect simple title: Back to the Statistical Future!
The next stage was to get all of our expression of interest paperwork together for the CODI producers and, once our show was selected/accepted (yay!) we needed to ensure we had all our details for the Fringe programme. Because the Fringe deadlines are very early – the final deadline for totally finalized copy, images, URLs etc. for the programme and website hits as early in January – we also had to make sure we had everything finalized. That included the modest funding to cover registering our show in the guide, in key programmes, on posters in St Andrews Square, etc. The CODI producers, being fabulous, bundle this all together into a very affordable fee that doesn't even pretend to cover all their serious hard work supporting the shows and working to get potential audiences, as well as University press offices and local and national press aware of the strand.
So, we had a show title and basic idea… And an official listing imminently going live… What next?
Northern Exposure
Never mind writing the show itself, the next priority is actually writing the stuff to promote the show: news items for websites, tweets, blog posts, emailing contacts or nudging the press. Because if there is an audience all booked in, we not only need to have the show written but there's a good chance it will go well. If there is no audience the best written show in the world won't be nearly as fun.
Tickets for CODI have been priced this year at £8. That is a marker of the confidence the CODI producers have in us lot – the writers and performers – but it is also something of a challenge. If I can go see Bridget Christie for only a few more pounds, or something at the book festival for a similar price, my expectations as an audience member are set high. But I'm also really invested in what I'm about to see or be part of. Psychologically paying for stuff makes us value it more than free stuff. There is a whole free fringe, and there are also quite a lot of free events led by academics and researchers, which are frequently excellent.
There are other reasons to charge £8. Our venue this year and last has been a yurt in St Andrews Square, part of the Stand in the Square, one of the offshoot venues from legendary comedy club The Stand. So there are promotion costs, the venue costs (hire of space, yurt, power etc), and the costs of having an (excellent) technician keeping our mics and music working as expected – and those apply to every show no matter how famous you are.
Thus, as August draws closer you find yourself logging in daily, checking ticket sales, panicking, and working out how to make your show better, how to let people know about it in a new way, how to tell all of your friends that really, they are better booking early. Every ticket sale is a victory as well as a reminder that your show really really better be good… And so…
Writing the show itself
So, as I post this it is mid August and our show, taking place on 26th is coming together but isn't finished yet.
Back in November, when we were preparing our pitch Helen and I both scoured the Statistical Accounts for what we call our "snippits" file – highlights, quotes, interesting leads, stories and statistics that we think might make a show. Once we had that clearer idea of what to focus on we started looking for more, digging deeper into some of our key topics: libraries; schools; literacy; public housing; disability and poor relief.
There were also Boot Camps to help us along – CODI gatherings in which all participants are encouraged to come along and share advice and in-progress show ideas. Some of these are in the Stand, which comes with the bonus of letting you tread the hallowed 4 feet of plywood that is their tiny stage. And for the last of these, in June, we were expected to give our 3 minute presentation outlining not just the topic, but also the structure of our show. Which means you have to have one. And even if that structure is only finalized late the night before the bootcamp, it's still awfully useful to have. Because with that title, description, structure and a slowly booking audience all in place you have at least a full skeleton of your show, and plenty of time to flesh it out properly.
With CODI now in it's third year there are some golden rules about what makes a CODI show too. It isn't a presentation; it's about interacting with the audience and engaging them. It isn't about being the cleverest person in the room but it is about sharing and enlightening the audience with what you know. You need to be prepared but you can also count on Susan, now the compere for all CODI shows, to manage anything really challenging for you. As a bonus she'll also dress as a minion, or a penguin, or a hurricane, or, for our show, impersonate a judgmental 19th century Minister of the Church of Scotland.
So the final stage is writing that script down. Which doing Bright Club has taught me is always worth doing for a performance where timing and wording will matter (so this is not always the case for presentations elsewhere). And that structure will get rejigged, and new data may need gathering – for instance in the last week Helen has been gathering data on average pay in 1835, whilst I've been scrutinizing the finances of an Edinburgh workhouse. As Helen and I are in different geographical locations emails and google docs and Skype calls have been happening to check in. And finally, as I am currently doing, it will all get into a finalized script, then read through and changed and made funnier. Then we'll need to think "is that clear enough" and "can I back that up"…
And then, on 26th August, we will go into a wonderful and hopefully full yurt, and anything could happen… we may forget half of the content, we probably will be taken in whole new directions by the audience, why not join us and find out?