I am again at the IIPC WAC / RESAW Conference 2017 and today I am in the very busy technical strand at the British Library. See my Day One post for more on the event and on the HiberActive project, which is why I'm attending this very interesting event.
These notes are live so, as usual, comments, additions, corrections, etc. are very much welcomed.
Tools for web archives analysis & record extraction (chair Nicholas Taylor)
Digging documents out of the archived web – Andrew Jackson
This is the technical counterpoint to the presentation I gave yesterday… So I talked yesterday about the physical workflow of catalogue items… We found that the Digital ePrints team had started processing eprints the same way…
staff looked in an outlook calendar for reminders
looked for new updates since last check
download each to local folder and open
check catalogue to avoid re-submitting
upload to internal submission portal
add essential metadata
submit for ingest
clean up local files
update stats sheet
Then inget usually automated (but can require intervention)
Updates catalogue once complete
New catalogue records processed or enhanced as necessary.
It was very manual, and very inefficient… So we have created a harvester:
Setup: specify "watched targets" then…
Harvest (harvester crawl targets as usual) –> Ingested… but also…
Document extraction:

spot documents in the crawl
find landing page
extract machine-readable metadata
submit to W3ACT (curation tool) for review

Acquisition:

check document harvester for new publications
edit essential metadata
submit to catalogue

Cataloguing

cataloguing records processed as necessary
This is better but there are challenges. Firstly, what is a "publication?". With the eprints team there was a one-to-one print and digital relationship. But now, no more one-to-one. For example, gov.uk publications… An original report will has an ISBN… But that landing page is a representation of the publication, that's where the assets are… When stuff is catalogued, what can frustrate technical folk… You take date and text from the page – honouring what is there rather than normalising it… We can dishonour intent by capturing the pages… It is challenging…
MARC is initially alarming… For a developer used to current data formats, it's quite weird to get used to. But really it is just encoding… There is how we say we use MARC, how we do use MARC, and where we want to be now…
One of the intentions of the metadata extraction work was to provide an initial guess of the catalogue data – hoping to save cataloguers and curators time. But you probably won't be surprised that the names of authors' names etc. in the document metadata is rarely correct. We use the worse extractor, and layer up so we have the best shot. What works best is extracting the HTML. Gov.uk is a big and consistent publishing space so it's worth us working on extracting that.
What works even better is the gov.uk API data – it's in JSON, it's easy to parse, it's worth coding as it is a bigger publisher for us.
But now we have to resolve references… Multiple use cases for "records about this record":
publisher metadata
third party data sources (e.g. Wikipedia)
Our own annotations and catalogues
Revisit records
We can't ignore the revisit records… Have to do a great big join at some point… To get best possible quality data for every single thing….
And this is where the layers of transformation come in… Lots of opportunities to try again and build up… But… When I retry document extraction I can accidentally run up another chain each time… If we do our Solr searches correctly it should be easy so will be correcting this…
We do need to do more future experimentation.. Multiple workflows brings synchronisation problems. We need to ensure documents are accessible when discoverable. Need to be able to re-run automated extraction.
We want to iteratively improve automated metadata extraction:
improve HTML data extraction rules, e.g. Zotero translators (and I think LOCKSS are working on this).
Bring together different sources
Smarter extractors – Stanford NER, GROBID (built for sophisticated extraction from ejournals)
And we still have that tension between what a publication is… A tension between established practice and publisher output Need to trial different approaches with catalogues and users… Close that whole loop.
Q&A
Q1) Is the PDF you extract going into another repository… You probably have a different preservation goal for those PDFs and the archive…
A1) Currently the same copy for archive and access. Format migration probably will be an issue in the future.
Q2) This is quite similar to issues we've faced in LOCKSS… I've written a paper with Herbert von de Sompel and Michael Nelson about this thing of describing a document…
A2) That's great. I've been working with the Government Digital Service and they are keen to do this consistently….
Q2) Geoffrey Bilder also working on this…
A2) And that's the ideal… To improve the standards more broadly…
Q3) Are these all PDF files?
A3) At the moment, yes. We deliberately kept scope tight… We don't get a lot of ePub or open formats… We'll need to… Now publishers are moving to HTML – which is good for the archive – but that's more complex in other ways…
Q4) What does the user see at the end of this… Is it a PDF?
A4) This work ends up in our search service, and that metadata helps them find what they are looking for…
Q4) Do they know its from the website, or don't they care?
A4) Officially, the way the library thinks about monographs and serials, would be that the user doesn't care… But I'd like to speak to more users… The library does a lot of downstream processing here too..
Q4) For me as an archivist all that data on where the document is from, what issues in accessing it they were, etc. would extremely useful…
Q5) You spoke yesterday about engaging with machine learning… Can you say more?
A5) This is where I'd like to do more user work. The library is keen on subject headings – thats a big high level challenge so that's quite amenable to machine learning. We have a massive golden data set… There's at least a masters theory in there, right! And if we built something, then ran it over the 3 million ish items with little metadata could be incredibly useful. In my 0pinion this is what big organisations will need to do more and more of… making best use of human time to tailor and tune machine learning to do much of the work…
Comment) That thing of everything ending up as a PDF is on the way out by the way… You should look at Distil.pub – a new journal from Google and Y combinator – and that's the future of these sorts of formats, it's JavaScript and GitHub. Can you collect it? Yes, you can. You can visit the page, switch off the network, and it still works… And it's there and will update…
A6) As things are more dynamic the re-collecting issue gets more and more important. That's hard for the organisation to adjust to.
Nick Ruest & Ian Milligan: Learning to WALK (Web Archives for Longitudinal Knowledge): building a national web archiving collaborative platform
Ian: Before I start, thank you to my wider colleagues and funders as this is a collaborative project.
So, we have a fantastic web archival collections in Canada… They collect political parties, activist groups, major events, etc. But, whilst these are amazing collections, they aren't accessed or used much. I think this is mainly down to two issues: people don't know they are there; and the access mechanisms don't fit well with their practices. Maybe when the Archive-it API is live that will fix it all… Right now though it's hard to find the right thing, and the Canadian archive is quite siloed. There are about 25 organisations collecting, most use the Archive-It service. But, if you are a researcher… to use web archives you really have to interested and engaged, you need to be an expert.
So, building this portal is about making this easier to use… We want web archives to be used on page 150 in some random book. And that's what the WALK project is trying to do. Our goal is to break down the silos, take down walls between collections, between institutions. We are starting out slow… We signed Memoranda of Understanding with Toronto, Alberta, Victoria, Winnipeg, Dalhousie, Simon Fraser University – that represents about half of the archive in Canada.
We work on workflow… We run workshops… We separated the collections so that post docs can look at this
We are using Warcbase (warcbase.org) and command line tools, we transferred data from internet archive, generate checksums; we generate scholarly derivatives – plain text, hypertext graph, etc. In the front end you enter basic information, describe the collection, and make sure that the user can engage directly themselves… And those visualisations are really useful… Looking at visualisation of the Canadian political parties and political interest group web crawls which track changes, although that may include crawler issues.
Then, with all that generated, we create landing pages, including tagging, data information, visualizations, etc.
Nick: So, on a technical level… I've spent the last ten years in open source digital repository communities… This community is small and tight-knit, and I like how we build and share and develop on each others work. Last year we presented webarchives.ca. We've indexed 10 TB of warcs since then, representing 200+ M Solr docs. We have grown from one collection and we have needed additional facets: institution; collection name; collection ID, etc.
Then we have also dealt with scaling issues… 30-40Gb to 1Tb sized index. You probably think that's kinda cute… But we do have more scaling to do… So we are learning from others in the community about how to manage this… We have Solr running on an Open Stack… But right now it isn't at production scale, but getting there. We are looking at SolrCloud and potentially using a Shard2 per collection.
Last year we had a Solr index using the Shine front end… It's great but… it doesn't have an active open source community… We love the UK Web Archive but… Meanwhile there is BlackLight which is in wide use in libraries. There is a bigger community, better APIs, bug fixes, etc… So we have set up a prototype called WARCLight. It does almost all that Shine does, except the tree structure and the advanced searching..
Ian spoke about derivative datasets… For each collection, via Blacklight or ScholarsPortal we want domain/URL Counts; Full text; graphs. Rather than them having to do the work, they can just engage with particular datasets or collections.
So, that goal Ian talked about: one central hub for archived data and derivatives…
Q&A
Q1) Do you plan to make graphs interactive, by using Kibana rather than Gephi?
A1 – Ian) We tried some stuff out… One colleague tried R in the browser… That was great but didn't look great in the browser. But it would be great if the casual user could look at drag and drop R type visualisations. We haven't quite found the best option for interactive network diagrams in the browser…
A1 – Nick) Generally the data is so big it will bring down the browser. I've started looking at Kibana for stuff so in due course we may bring that in…
Q2) Interesting as we are doing similar things at the BnF. We did use Shine, looked at Blacklight, but built our own thing…. But we are looking at what we can do… We are interested in that web archive discovery collections approaches, useful in other contexts too…
A2 – Nick) I kinda did this the ugly way… There is a more elegant way to do it but haven't done that yet..
Q2) We tried to give people WARC and WARC files… Our actual users didn't want that, they want full text…
A2 – Ian) My students are quite biased… Right now if you search it will flake out… But by fall it should be available, I suspect that full text will be of most interest… Sociologists etc. think that network diagram view will be interesting but it's hard to know what will happen when you give them that. People are quickly put off by raw data without visualisation though so we think it will be useful…
Q3) Do you think in few years time
A3) Right now that doesn't scale… We want this more cloud-based – that's our next 3 years and next wave of funded work… We do have capacity to write new scripts right now as needed, but when we scale that will be harder,,,,
Q4) What are some of the organisational, admin and social challenges of building this?
A4 – Nick) Going out and connecting with the archives is a big part of this… Having time to do this can be challenging…. "is an institution going to devote a person to this?"
A4 – Ian) This is about making this more accessible… People are more used to Backlight than Shine. People respond poorly to WARC. But they can deal with PDFs with CSV, those are familiar formats…
A4 – Nick) And when I get back I'm going to be doing some work and sharing to enable an actual community to work on this..
Gregory Wiedeman: Automating access to web archives with APIs and ArchivesSpace
A little bit of context here… University at Albany, SUNY we are a public university with state records las that require us to archive. This is consistent with traditional collecting. But we no dedicated web archives staff – so no capacity for lots of manual work.
One thing I wanted to note is that web archives are records. Some have paper equivalent, or which were for many years (e.g. Undergraduate Bulletin). We also have things like word documents. And then we have things like University sports websites, some of which we do need to keep…
The seed isn't a good place to manage these as records. But archives theory and practices adapt well to web archives – they are designed to scale, they document and maintain context, with relationship to other content, and a strong emphasis on being a history of records.
So, we are using DACS: Describing Archives: A Content Standard to describe archives, why not use that for web archives? They focus on intellectual content, ignorant of formats; designed for pragmatic access to archives. We also use ArchiveSpace – a modern tool for aggregated records that allows curators to add metadata about a collection. And it interleaved with our physical archives.
So, for any record in our collection.. You can specify a subject… a Python script goes to look at our CDX, looks at numbers, schedules processes, and then as we crawl a collection the extents and data collected… And then shows in our catalogue… So we have our paper records, our digital captures… Uses then can find an item, and only then do you need to think about format and context. And, there is an awesome article by David Graves(?) which talks about that aggregation encourages new discovery…
Users need to understand where web archives come from. They need provenance to frame of their research question – it adds weight to their research. So we need to capture what was attempted to be collected – collecting policies included. We have just started to do this with a statement on our website. We need a more standardised content source. This sort of information should be easy to use and comprehend, but hard to find the right format to do that.
We also need to capture what was collected. We are using the Archive-It Partner Data API, part of the Archive-It 5.0 system. That API captures:
type of crawl
unique ID
crawl result
crawl start, end time
recurrence
exact data, time, etc…
This looks like a big JSON file. Knowing what has been captured – and not captured – is really important to understand context. What can we do with this data? Well we can see what's in our public access system, we can add metadata, we can present some start times, non-finish issues etc. on product pages. BUT… it doesn't address issues at scale.
So, we are now working on a new open digital repository using the Hydra system – though not called that anymore! Possibly we will expose data in the API. We need standardised data structure that is independent of tools. And we also have a researcher education challenge – the archival description needs to be easy to use, re-share and understand.
Find our work – sample scripts, command line query tools – on Github:
http://github.com/UAlbanyArchives/describingWebArchives
Q&A
Q1) Right now people describe collection intent, crawl targets… How could you standardise that?
A1) I don't know… Need an intellectual definition of what a crawl is… And what the depth of a crawl is… They can produce very different results and WARC files… We need to articulate this in a way that is clear for others to understand…
Q1) Anything equivalent in the paper world?
A1) It is DACS but in the paper work we don't get that granular… This is really specific data we weren't really able to get before…
Q2) My impression is that ArchiveSpace isn't built with discovery of archives in mind… What would help with that…
A2) I would actually put less emphasis on web archives… Long term you shouldn't have all these things captures. We just need an good API access point really… I would rather it be modular I guess…
Q3) Really interesting… the definition of Archive-It, what's in the crawl… And interesting to think about conveying what is in the crawl to researchers…
A3) From what I understand the Archive-It people are still working on this… With documentation to come. But we need granular way to do that… Researchers don't care too much about the structure…. They don't need all those counts but you need to convey some key issues, what the intellectual content is…
Comment) Looking ahead to the WASAPI presentation… Some steps towards vocabulary there might help you with this…
Comment) I also added that sort of issue for today's panels – high level information on crawl or collection scope. Researchers want to know when crawlers don't collect things, when to stop – usually to do with freak outs about what isn't retained… But that idea of understanding absence really matters to researchers… It is really necessary to get some… There is a crapton of data in the partners API – most isn't super interesting to researchers so some community effort to find 6 or 12 data points that can explain that crawl process/gaps etc…
A4) That issue of understanding users is really important, but also hard as it is difficult to understand who our users are…
Harvesting tools & strategies (Chair: Ian Milligan)
Jefferson Bailey: Who, what, when, where, why, WARC: new tools at the Internet Archive
Firstly, apologies for any repetition between yesterday and today… I will be talking about all sorts of updates…
So, WayBack Search… You can now search WayBackMachine… Including keyword, host/domain search, etc. The index is build on inbound anchor text links to a homepage. It is pretty cool and it's one way to access this content which is not URL based. We also wanted to look at domain and host routes into this… So, if you look at the page for, say, parliament.uk you can now see statistics and visualisations. And there is an API so you can make your own visualisations – for hosts or for domains.
We have done stat counts for specific domains or crawl jobs… The API is all in json so you can just parse this for, for example, how much of what is archived for a domain is in the form of PDFs.
We also now have search by format using the same idea, the anchor text, the file and URL path, and you can search for media assets. We don't have exciting front end displays yet… But I can search for e.g. Puppy, mime type: video, 2014… And get lots of awesome puppy videos [the demo is the Puppy Bowl 2014!]. This media search is available for some of the WayBackMachine for some media types… And you can again present this in the format and display you'd like.
For search and profiling we have a new 14 column CDX including new language, simhash, sha256 fields. Language will help users find material in their local/native languages. The SIMHASH is pretty exciting… that allows you to see how much a page has changed. We have been using it on Archive It partners… And it is pretty good. For instance seeing government blog change month to month shows the (dis)similarity.
For those that haven't seen the Capture tool – Brozzler is in production in Archive-it with 3 doze orgaisations and using it. This has also led to warcprox developments too. It was intended for AV and social media stuff. We have a chromium cluster… It won't do domain harvesting, but it's good for social media.
In terms of crawl quality assurance we are working with the Internet Memory Foundation to create quality toools. These are building on internal crawl priorities work at IA crawler beans, comparison testing. And this is about quality at scale. And you can find reports on how we also did associated work on the WayBackMachine's crawl quality. We are also looking at tools to monitor crawls for partners, trying to find large scale crawling quality as it happens… There aren't great analytics… But there are domain-scale monitoring, domain scale patch crawling, and Slack integrations.
For doman scale work, for patch crawling we use WAT analysis for embeds and most linked. We rank by inbound links and add to crawl. ArchiveSpark is a framework for cluster-based data extraction and derivation (WA+).
Although this is a technical presentation we are also doing an IMLS funded project to train public librarians in web archiving to preserve online local history and community memory, working with partners in various communities.
Other collaborations and research include our end of term web archive 2016/17 when the administration changes… No one is official custodian for the gov.uk. And this year the widespread deletion of data has given this work greater profile than usual. This time the work was with IA, LOC, UNT, GWU, and others. 250+ TB of .gov/.mil as well as White House and Obama social media content.
There had already been discussion of the Partner Data API. We are currently re-building this so come talk to me if you are interested in this. We are working with partners to make sure this is useful. makes sense, and is made more relevant.
We take a lot of WARC files from people to preserve… So we are looking to see how we can get partners to do this with and for it. We are developing a pipeline for automated WARC ingest for web services.
There will be more on WASAPI later, but this is part of work to ensure web archives are more accessible… And that uses API calls to connect up repositories.
We have also build a WAT API that allows you to query most of the metadta for a WARC file. You can feed it URLs, and get back what you want – except the page type.
We have new portals and searches now and coming. This is about putting new search layers on TLD content in the WayBackMachine… So you can pick media types, and just from one domain, and explore them all…
And with a statement on what archives should do – involving a gif of a centaur entering a rainbow room – that's all… 
Q&A
Q1) What are implications of new capabilities for headless browsing for Chrome for Brozzler…
A1 – audience) It changes how fast you can do things, not really what you can do…
Q2) What about http post for WASAPI
A2) Yes, it will be in the Archive-It web application… We'll change a flag and then you can go and do whatever… And there is reporting on the backend. Doesn't usually effect crawl budgets, it should be pretty automated… There is a UI.. Right now we do a lot manually, the idea is to do it less manually…
Q3) What do you do with pages that don't specify encoding… ?
A3) It doesn't go into url tokenisation… We would wipe character encoding in anchor text – it gets cleaned up before elastic search..
Q4) The SIMHASH is before or after the capture? And can it be used for deduplication
A4) After capture before CDX writing – it is part of that process. Yes, it could be used for deduplication. Although we do already do URL deduplication… But we could compare to previous SIMHASH to work out if another copy is needed… We really were thinking about visualising change…
Q5) I'm really excited about WATS… What scale will it work on…
A5) The crawl is on 100 TB – we mostly use existing WARC and Json pipeline… It performs well on something large. But if a lot of URLs, it could be a lot to parse.
Q6) With quality analysis and improvement at scale, can you tell me more about this?
A6) We've given the IMF access to our own crawls… But we have been compared our own crawls to our own crawls… Comparing to Archive-it is more interesting… And looking at domain level… We need to share some similar size crawls – BL and IA – and figure out how results look and differ. It won't be content based at that stage, it will be hotpads and URLs and things.
Michele C. Weigle, Michael L. Nelson, Mat Kelly & John Berlin: Archive what I see now – personal web archiving with WARCs
Mat: I will be describing tools here for web users. We want to enable individuals to create personal web archives in a self-contained way, without external services. Standard web archiving tools are difficult for non IT experts. "Save page as" is not suitable for web archiving. Why do this? It's for people who don't want to touch the commend line, but also to ensure content is preserved that wouldn't otherwise be. More archives are more better.
It is also about creation and access, as both elements are important.
So, our goals involve advancing development of:
WARCreate – create WARC from what you see in your browser.
Web Archiving Integration Layer (WAIL)
Mink
WARCcreate is… A Chrome browser extension to save WARC files from your browser, no credentials pass through 3rd parties. It heavilt leverages Chrome webRequest API. ut it was build in 2012 so APIs and libraries have evolved so we had to work on that. We also wanted three new modes for bwoser based preservation: record mode – retain buffer as you browse; countdown mode – preserve reloading page on an interval; event mode – preserve page when automatically reloaded.
So you simply click on the WARCreate button the browser to generate WARC files for non technical people.
Web Archiving Integration Layer (WAIL) is a stand-alone desktop application, it offers collection-based web archiving, and includes Heritrix for crawling, OpenWayback for replay, and Python scripts compiled to OS-native binaries (.app, .exe). One of the recent advancements was a new user interface. We ported Python to Electron – using web technologies to create native apps. And that means you can use native languages to help you to preserve. We also moves from a single archive to collection-based archiving. We also ported OpenWayback to pywb. And we also started doing native Twitter integration – over time and hashtags…
So, the original app was a tool to enter a URI and then get a notification. The new version is a little more complicated but provides that new collection-based interface. Right now both of these are out there… Eventually we'd like to merge functionality here. So, an example here, looking at the UK election as a collection… You can enter information, then crawl to within defined boundaries… You can kill processes, or restart an old one… And this process integrates with Heritrix to give status of a task here… And if you want to Archive Twitter you can enter a hashtag and interval, you can also do some additional filtering with keywords, etc. And then once running you'll get notifications.
Mink… is a Google Chrome browser extension. It indicates archival capture count as you browse. Quickly submits URI to multiple archives from UI. From Mink(owski) space. Our recent enhancements include enhancements to the interface to add the number of archives pages to icon at bottom of page. And allows users to set preferences on how to view large set of memetos. And communication with user-specified or local archives…
The old mink interface could be affected by page CSS as in the DOM. So we ave moved to shadow DOM, making it more reliable and easy to use. And then you have a more consistent, intuitive iller columns for many captures. It's an integration of live and archive web, whilst you are viewing the live web. And you can see year, month, day, etc. And it is refined to what you want to look at this. And you have an icon in Mink to make a request to save the page now – and notification of status.
So, in terms of tool integration…. We want to ensure integration between Mink and WAIL so that Mink points to local archives. In the future we want to decouple Mink from external Memento aggregator – client-side customisable collection of archives instead.
See: http://bit.ly/iipcWAC2017 for tools and source code.
Q&A
Q1) Do you see any qualitative difference in capture between WARCreate and WARC recorder?
A1) We capture the representation right at the moment you saw it.. Not the full experience for others, but for you in a moment of time. And that's our goal – what you last saw.
Q2) Who are your users, and do you have a sense of what they want?
A2) We have a lot of digital humanities scholars wanting to preserve Twitter and Facebook – the stream as it is now, exactly as they see it. So that's a major use case for us.
Q3) You said it is watching as you browse… What happens if you don't select a WARC
A3) If you have hit record you could build up content as pages reload and are in that record mode… It will impact performance but you'll have a better capture…
Q3) Just a suggestion but I often have 100 tabs open but only want to capture something once a week so I might want to kick it off only when I want to save it…
Q4) That real time capture/playback – are there cool communities you can see using this…
A4) Yes, I think with CNN coverage of a breaking storm allows you to see how that story evolves and changes…
Q5) Have you considered a mobile version for social media/web pages on my phone?
A5) Not currently supported… Chrome doesn't support that… There is an app out there that lets you submit to archives, but not to create WARC… But there is a movement to making those types of things…
Q6) Personal archiving is interesting… But jailed in my laptop… great for personal content… But then can I share my WARC files with the wider community .
A6) That's a good idea… And more captures is better… So there should be a way to aggregate these together… I am currently working on that, but you should need to be able to specify what is shared and what is not.
Q6) One challenge there is about organisations and what they will be comfortable with sharing/not sharing.
Lozana Rossenova and IIya Kreymar, Rhizome: Containerised browsers and archive augmentation
Lozana: As you probably know Webrecorder is a high fidelity interactive recording of any web site you browse – and how you engage. And we have recently released an App in electron format.
Webrecorder is a worm's eye view of archiving, tracking how users actually move around the web… For instance for instragram and Twitter posts around #lovewins you can see the quality is high. Webrecorder uses symmetrical archiving – in the live browser and in a remote browser… And you can capture then replay…
In terms of how we organise webrecorder: we have collections and sessions.
The thing I want to talk about today is on Remote browsers, and my work with Rhizome on internet art. And a lot of these works actually require old browser plugins and tools… So Webrecorder enables capture and replay even where technology no longer available.
To clarify: the programme says "containerised" but we now refer to this as "remote browsers" – still using Docker cotainers to run these various older browsers.
When you go to record a site you select the browser, and the site, and it begins the recording… The Java Applet runs and shows you a visulisation of how it is being captured. You can do this with flash as well… If we open a multimedia in your normal (Chrome) browser, it isn't working. Restoration is easier with just flash, need other things to capture flash with other dependencies and interactions.
Remote browsers are really important for Rhizome work in general, as we use them to stage old artworks in new exhibitions.
Ilya: I will be showing some upcoming beta features, including ways to use webrecorder to improve other arhives…
Firstly, which other web archives? So I built a public web archives repsitory:
https://github.com/webrecorder/public-web-archives
And with this work we are using WAM – the Web Archiving Manifest. And added a WARC source URI and WARC creation date field to the WARC Header at the moment.
So, Jefferson already talked about patching – patching remote archives from the live web… is an approach where we patch either from live web or from other archives, depending on what is available or missing. So, for instance, if I look at a Washington Post page in the archive from 2nd March… It shows how other archives are being patched in to me to deliver me a page… In the collection I have a think called "patch" that captures this.
Once pages are patched, then we introduce extraction… We are extracting again using remote archiving and automatic patching. So you combine extraction and patching features. You create two patches and two WARC files. I'll demo that as well… So, here's a page from the CCA website and we can patch that… And then extract that… And then when we patch again we get the images, the richer content, a much better recording of the page. So we have 2 WARCs here – one from the British Library archive, one from the patching that might be combined and used to enrich that partial UKWA capture.
Similarly we can look at a CNN page and take patches from e.g. the Portuguese archive. And once it is done we have a more complete archive… When we play this back you can display the page as it appeared, and patch files are available for archives to add to their copy.
So, this is all in beta right now but we hope to release it all in the near future…
Q&A
Q1) Every web archive already has a temporal issue where the content may come from other dates than the page claims to have… But you could aggrevate that problem. Have you considered this?
A1) Yes. There are timebounds for patching. And also around what you display to the user so they understand what they see… e.g. to patch only within the week or the month…
Q2) So it's the closest date to what is in web recorder?
A2) The other sources are the closest successful result on/closest to the date from another site…
Q3) Rather than a fixed window for collection, seeing frequently of change might be useful to understand quality/relevance… But I think you are replaying
A3)Have you considered a headless browser… with the address bar…
A3 – Lozana) Actually for us the key use case is about highlighting and showcasing old art works to the users. It is really important to show the original page as it appeared – in the older browsers like Netscape etc.
Q4) This is increadibly exciting. But how difficult is the patching… What does it change?
A4) If you take a good capture and a static image is missing… Those are easy to patch in… If highly contextualised – like Facebook, that is difficult to do.
Q5) Can you do this in realtime… So you archive with Perma.cc then you want to patch something immediately…
A5) This will be in the new version I hope… So you can check other sources and fall back to other sources and scenarios…
Comment –  Lozana) We have run UX work with an archiving organisation in Europe for cultural heritage and their use case is that they use Archive-It and do QA the next day… Crawl might mix something but highly dynamic, so want to quickly be able to patch it pretty quickly.
Ilya) If you have an archive that is not in the public archive list on Github please do submit it as a fork request and we'll be able to add it…
Leveraging APIs (Chair: Nicholas Taylor)
Fernando Melo and Joao Nobre: Arquivo.pt API: enabling automatic analytics over historical web data
Fernando: We are a publicly available web archive, mainly of Portuguese websites from the .pt domain. So, what can you do with out API?
Well, we built our first image search using our API, for instance a way to explore Charlie Hebdo materials; another application enables you to explore information on Portuguese politicians.
We support the Memento protocol, and you can use the Memento API. We are one of the time gates for the time travel searches. And we also have full text search as well as URL search, though our OpenSearch API. We have extended our API to support temporal searches in the portuguese web. Find this at: http://arquivo.pt/apis/opensearch/. Full text search requests can be made through a URL query, e.g. http://arquivp.pt/opensearch?query=euro 2004 would search for mentions of euro 2004, and you can add parameters to this, or search as a phrase rather than keywords.
You can also search mime types – so just within PDFs for instance. And you can also run URL searches – e.g. all pages from the New York Times website… And if you provide time boundaries the search will look for the capture from the nearest date.
Joao: I am going to talk about our image search API. This works based on keyword searches, you can include operators such as limiting to images from a particular site, to particular dates… Results are ordered by relevance, recency, or by type. You can also run advanced image searches, such as for icons, you can use quotation marks for names, or a phrase.
The request parameters include:
query
stamp – timestamp
Start – first index of search
safe Image (yes; no; all) – restricts search only to safe images.
The response is returned in json with total results, URL, width, height, alt, score, timestamp, mime, thumbnail, nsfw, pageTitle fields.
More on all of this: http://arquivo.pt/apis
Q&A
Q1) How do you classify safe for work/not safe for work
A1 – Fernando) This is a closed beta version. Safe for work/nsfw is based on classification worked around training set from Yahoo. We are not for blocking things but we want to be able to exclude shocking images if needed.
Q1) We have this same issue in the GifCities project – we have a manually curated training set to handle that.
Comment) Maybe you need to have more options for that measure to provide levels of filtering…
Q2) With that json response, why did you include title and alt text…
A2) We process image and extract from URL, the image text… So we capture the image, the alt text, but we thought that perhaps the page title would be interesting, giving some sense of context. Maybe the text before/after would also be useful but that takes more time… We are trying to keep this working
Q3) What is the thumbnail value?
A3) It is in base 64. But we can make that clearer in the next version…
Nicholas Taylor: Lots more LOCKSS for web archiving: boons from the LOCKSS software re-architecture
This is following on from the presentation myself and colleagues did at last year's IIPC on APIs.
LOCKSS came about from a serials librarian and a computer scientist. They were thinking about emulating the best features of the system for preserving print journals, allowing libraries to conserve their traditional role as preserver. The LOCKSS boxes would sit in each library, collecting from publishers' website, providing redundancy, sharing with other libraries if and when that publication was no longer available.
18 years on this is a self-sustaining programme running out of Stanford, with 10s of networks and hundreds of partners. Lots of copies isn't exclusive to LOCKSS but it is the decentralised replication model that addresses the long term bit integrity is hard to solve, that more (correlated) copies doesn't necessarily keep things safe and can make it vulnerable to hackers. So this model is community approved, published on, and well established.
Last year we started re-architecting the LOCKSS software so that it becomes a series of websites. Why do this? Well to reduce support and operation costs – taking advantage of other softwares on the web and web archiving,; to de silo components and enable external integration – we want components to find use in other systems, especially in web archiving; and we are preparing to evolve with the web, to adapt our technologies accordingly.
What that means is that LOCKSS systems will treat WARC as a storage abstraction, and more seamlessly do this, processing layers, proxies, etc. We also already integrate Memento but this will also let us engage WASAPI – which there will be more in our next talk.
We have built a service for bibliographic metadata extraction, for web harvest and file transfer content; we can map values in DOM tree to metadata fields; we can retrieve downloadable metadata from expected URL patterns; and parse RIS and XML by schema. That model shows our bias to bibliographic material.
We are also using plugins to make bibliographic objects and their metadata on many publishing platforms machine-intelligible. We mainly work with publishing/platform heuristics like Atypon, Digital Commons, HighWire, OJS and Silverchair. These vary so we have a framework for them.
The use cases for metadata extraction would include applying to consistent subsets of content in larger corpora; curating PA materials within broader crawls; retrieve faculty publications online; or retrieve from University CMSs. You can also undertake discovery via bibliographic metadata, with your institutions OpenURL resolver.
As described in 2005 D-Lib paper by DSHR et al, we are looking at on-access format migration. For instance x-bitmap to GIF.
Probably the most important core preservation capability is the audit and repair protocol. Network nodes conduct polls to validate integrity of distributed copies of data chunks. More nodes = more security – more nodes can be down; more copies can be corrupted… The notes do not trust each other in this model and responses cannot be cached. And when copies do not match, the node audits and repairs.
We think that functionality may be useful in other distributed digital preservation networks, in repository storage replication layers. And we would like to support varied back-ends including tape and cloud. We haven't built those integrations yet…
To date our progress has addressed the WARC work. By end of 2017 we will have Docker-ised components, have a web harvest framework, polling and repair web service. By end of 2018 we will have IP address and Shibboleth access to OpenWayBack…
By all means follow and plugin. Most of our work is in a private repository, which then copies to GitHub. And we are moving more towards a community orientated software development approach, collaborating more, and exploring use of LOCKSS technologies in other contexts.
So, I want to end with some questions:
What potential do you see for LOCKSS technologies for web archiving, other use cases?
What standards or technologies could we use that we maybe haven't considered
How could we help you to use LOCKSS technologies?
How would you like to see LOCKSS plug in more to the web archiving community?
Q&A
Q1) Will these work with existing LOCKSS software, and do we need to update our boxes?
A1) Yes, it is backwards compatible. And the new features are containerised so that does slightly change the requirements of the LOCKSS boxes but no changes needed for now.
Q2) Where do you store biblographic metadata? Or is in the WARC?
A2) It is separate from the WARC, in a database.
Q3) With the extraction of the metadata… We have some resources around translators that may be useful.
Q4 – David) Just one thing of your simplified example… For each node… They all have to calculate a new separate nonce… None of the answers are the same… They all have to do all the work… It's actually a system where untrusted nodes are compared… And several nodes can't gang up on the other… Each peer randomly decides on when to poll on things… There is  leader here…
Q5) Can you talk about format migration…
A5) It's a capability already built into LOCKSS but we haven't had to use it…
A5 – David) It's done on the requests in http, which include acceptable formats… You can configure this thing so that if an acceptable format isn't found, then you transform it to an acceptable format… (see the paper mentioned earlier). It is based on mime type.
Q6) We are trying to use LOCKSS as a generic archive crawler… Is that still how it will work…
A6) I'm not sure I have a definitive answer… LOCKSS will still be web harvesting-based. It will still be interesting to hear about approaches that are not web harvesting based.
A6 – David) Also interesting for CLOCKSS which are not using web harvesting…
A6) For the CLOCKSS and LOCKSS networks – the big networks – the web harvesting portfolio makes sense. But other networks with other content types, that is becoming more important.
Comment) We looked at doing transformation that is quite straightforward… We have used an API
Q7) Can you say more about the community project work?
A7) We have largely run LOCKSS as more of an in-house project, rather than a community project. We are trying to move it more in the direction of say, Blacklight, Hydra….etc. A culture change here but we see this as a benchmark of success for this re-architecting project… We are also in the process of hiring a partnerships manager and that person will focus more on creating documentation, doing developer outreach etc.
David: There is a (fragile) demo that you can have a lot of this… The goal is to continue that through the laws project, as a way to try this out… You can (cautiously) engage with that at demo.laws.lockss.org but it will be published to GitHub at some point.
Jefferson Bailey & Naomi Dushay: WASAPI data transfer APIs: specification, project update, and demonstration
Jefferson: I'll give some background on the APIs. This is an IMLS funded project in the US looking at Systems Interoperability and Collaborative Development for Web Archives. Our goals are to:
build WARC and derivative dataset APIs (AIT and LOCKSS) and test via transfer to partners (SUL, UNT, Rutgers) to enable better distributed preservation and access
Seed and launch community modelled on characteristics of successful development and participation from communities ID'd by project
Sketch a blueprint and technical model for future web archiving APIs informed by project R&D
Technical architecture to support this.
So, we've already run WARC and Digital Preservation Surveys. 15-20% of Archive-it users download and locally store their WARCS – for various reasons – that is small and hasn't really moved, that's why data transfer was a core area. We are doing online webinars and demos. We ran a national symposium on API based interoperability and digital preservation and we have white papers to come from this.
Development wise we have created a general specification, a LOCKSS implementation, Archive-it implementation, Archive-it API documentation, testing and utility (in progress). All of this is on GitHub.
The WASAPI Archive-it Transfer API is written in python, meets all gen-spec citeria, swagger yaml in the repos. Authorisation uses AIT Django framework (same as web app), not defined in general specification. We are using browser cookies or http basic auth. We have a basic endpoint (in production) which returns all WARCs for that account; base/all results are paginated. In terms of query parameters you can use: filename; filetype; collection (ID); crawl (ID for AID crawl job)) etc.
So what do you get back? A JSON object has: pagination, count, request-url, includes-extra. You have fields including account (Archive-it ID); checksums; collection (Archive-It ID); crawl; craw time; crawl start; filename' filetype; locations; size. And you can request these through simple http queries.
You can also submit jobs for generating derivative datasets. We use existing query language.
In terms of what is to come, this includes:
Minor AIT API features
Recipes and utilities (testers welcome)
Community building research and report
A few papers on WA APIs
Ongoing surgets and research
Other APIs in WASAPI (past and future)
So we need some way to bring together these APIs regularly. And also an idea of what other APIs we need to support, and how to prioritise that.
Naomi: I'm talking about the Stanford take on this… These are the steps Nicholas, as project owner, does to download WARC files from Archive-it at the moment… It is a 13 step process… And this grant funded work focuses on simplifying the first six steps and making it more manageable and efficient. As a team we are really focused on not being dependent on bespoke softwares, things much be maintainable, continuous integration set up, excellent test coverage, automate-able. There is a team behind this work, and this was their first touching of any of this code – you had 3 neophytes working on this with much to learn.
We are lucky to be just down the corridor from LOCKSS. Our preferred language is Ruby but Java would work best for LOCKSS. So we leveraged LOCKSS engineering here.
The code is at: https://github.com/sul-dlss/wasapi-downloader/.
You only need Java to run the code. And all arguments are documented in Github. You can also view a video demo: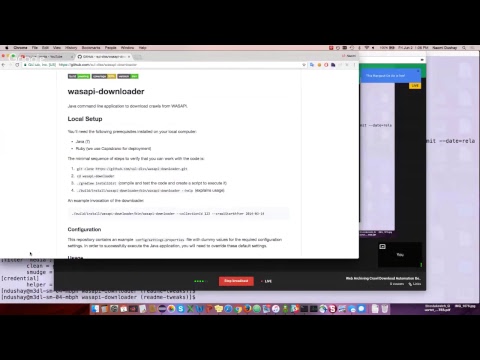 These videos are how we share our progress at the end of each Agile sprint.
In terms of work remaining we have various tweaks, pull requests, etc. to ensure it is production ready. One of the challenges so far has been about thinking crawls and patches, and the context of the WARC.
Q&A
Q1) At Stanford are you working with the other WASAPI APIs, or just the downloads one.
A1) I hope the approach we are taking is a welcome one. But we have a lot of projects taking place, but we are limited by available software engineering cycles for archives work.
Note that we do need a new readme on GitHub
Q2) Jefferson, you mentioned plans to expand the API, when will that be?
A2 – Jefferson) I think that it is pretty much done and stable for most of the rest of the year… WARCs do not have crawl IDs or start dates – hence adding crawl time.
Naomi: It was super useful that a different team built the downloader was separate from the team building the WASAPI as that surfaced a lot of the assumptions, issues, etc.
David: We have a CLOCKSS implementation pretty much building on the Swagger. I need to fix our ID… But the goal is that you will be able to extract stuff from a LOCKSS box using WASAPI using URL or Solr text search. But timing wise, don't hold your breath.
Jefferson: We'd also like others feedback and engagement with the generic specification – comments welcome on GitHub for instance.
Web archives platforms & infrastructure (Chair: Andrew Jackson)
Jack Cushman & Ilya Kreymer: Thinking like a hacker: security issues in web capture and playback
Jack: We want to talk about securing web archives, and how web archives can get themselves into trouble with security… We want to share what we've learnt, and what we are struggling with… So why should we care about security as web archives?
Ilya: Well web archives are not just a collection of old pages… No, high fidelity web archives run entrusted software. And there is an assumption that a live site is "safe" so nothing to worry about… but that isn't right either..
Jack: So, what could a page do that could damage an archive? Not just a virus or a hack… but more than that…
Ilya: Archiving local content… Well a capture system could have privileged access – on local ports or network server or local files. It is a real threat. And could capture private resources into a public archive. So. Mitigation: network filtering and sandboxing, don't allow capture of local IP addresses…
Jack: Threat: hacking the headless browser. Modern captures may use PhantomJS or other browsers on the server, most browsers have known exploits. Mitigation: sandbox your VM
Ilya: Stealing user secrets during capture… Normal web flow… But you have other things open in the browser. Partial mitigation: rewriting – rewrite cookies to exact path only; rewrite JS to intercept cookie access. Mitigation: separate recording sessions – for webrecorder use separate recording sessions when recording credentialed content. Mitigation: Remote browser.
Jack: So assume we are running MyArchive.com… Threat: cross site scripting to steal archive login
Ilya: Well you can use a subdomain…
Jack: Cookies are separate?
Ilya: Not really.. In IE10 the archive within the archive might steal login cookie. In all browsers a site can wipe and replace cookies.
Mitigation: run web archive on a separate domain from everything else. Use iFrames to isolate web archive content. Load web archive app from app domain, load iFrame content from content domain. As Webrecorder and Perma.cc both do.
Jack: Now, in our content frame… how back could it be if that content leaks… What if we have live web leakage on playback. This can happen all the time… It's hard to stop that entirely… Javascript can send messages back and fetch new content… to mislead, track users, rewrite history. Bonus: for private archives – any of your captures could eport any of your other captures.
The best mitigation is a Content-Security-Policy header can limit access to web archive domain
Ilya: Threat: Show different age contents when archives… Pages can tell they're in an archive and act differently. Mitigation: Run archive in containerised/proxy mode browser.
Ilya: Threat: Banner spoofing… This is a dangerous but quite easy to execute threat. Pages can dynamically edit the archives banner…
Jack: Suppose I copy the code of a page that was captured and change fake evidence, change the metadata of the date collected, and/or the URL bar…
Ilya: You can't do that in Perma because we use frames. But if you don't separate banner and content, this is a fairly easy exploit to do… So, Mitigation: Use iFrames for replay; don't inject banner into replay frame… It's a fidelity/security trade off.. .
Jack: That's our top 7 tips… But what next… What we introduce today is a tool called http://warc.games. This is a version of webrecorder with every security problem possible turned on… You can run it locally on your machine to try all the exploits and think about mitigations and what to do about them!
And you can find some exploits to try, some challenges… Of course if you actually find a flaw in any real system please do be respectful
Q&A
Q1) How much is the bug bounty?! [laughs] What do we do about the use of very old browsers…
A1 – Jack) If you use an old browser you may be compromised already… But we use the most robust solution possible… In many cases there are secure options that work with older browsers too…
Q2) Any trends in exploits?
A2 – Jack) I recommend the book A Tangled Book… And there is an aspect that when you run a web browser there will always be some sort of issue
A2 – Ilya) We have to get around security policies to archive the web… It wasn't designed for archiving… But that raises its own issues.
Q3) Suggestions for browser makers to make these safer?
A3) Yes, but… How do you do this with current protocols and APIs
Q4) Does running old browsers and escaping from containers keep you awake at night…
A4 – Ilya) Yes!
A4 – Jack) If anyone is good at container escapes please do write that challenge as we'd like to have it in there…
Q5) There's a great article called "Familiarity builds content" which notes that old browsers and softwares get more vulnerable over time… It is particularly a big risk where you need old software to archive things…
A5 – Jack) Thanks David!
Q6) Can you saw more about the headers being used…
A6) The idea is we write the CSP header to only serve from the archive server… And they can be quite complex… May want to add something of your own…
Q7) May depend on what you see as a security issue… for me it may be about the authenticity of the archive… By building something in the website that shows different content in the archive…
A7 – Jack) We definitely think that changing the archive is a security threat…
Q8) How can you check the archives and look for arbitrary hacks?
A8 – Ilya) It's pretty hard to do…
A8 – Jack) But it would be a really great research question…
Mat Kelly & David Dias: A collaborative, secure, and private InterPlanetary WayBack web archiving system using IPFS
David: Welcome to the session on going InterPlanatary… We are going to talk about peer to peer and other technology to make web archiving better…
We'll talk about InterPlanatary File System (IPFS) and InterPlanatary WayBack (IPWB)…
IPFS is also known as  the distributed web, moving from location based to content based… As we are aware, the web has some problems… You have experience of using a service, accessing email, using a document… There is some break in connectivity… And suddenly all those essential services are gone… Why? Why do we need to have the services working in such a vulnerable way… Even a simple page, you lose a connection and you get a 404. Why?
There is a real problem with permanence… We have this URI, the URL, telling us the protocol, location and content path… But when we come back later – weeks or months – and that content has moved elsewhere… Either somewhere else you can find, or somewhere you can't. Sometimes it's like the content has been destroyed… But every time people see a webpage, you download it to your machine… These issues come from location addressing…
In content addressing we tie content to a unique hash that identifies the item… So a Content Identifier (CID) allows us to do this… And then, in a network, when I look for that data… If there is a disruption to the network, we can ask any machine where the content is… And the node near you can show you what is available before you ever go to the network.
IPFS is already used in video streaming (inc. Netflix), legal documents, 3D models – with Hollolens for instance, for games, for scientific data and papers, blogs and webpages, and totally distributed web apps.
IPFS allows this to be distributed, offline, saves space, optimise bandwidth usage, etc.
Mat: So I am going to talk about IPWB. Motivation here is the persistence of archived web data dependent on resilience of organisation and availability of data. The design is extending the CDXJ format, with indexing and IPFS dissemination procedure, and Replay and IPFS Pull Procedure. So in an adapted CDXJ adds a header with the hash for the content to the metadata structure.
Dave: One of the ways IPFS is making changes in the boundary is in browser tab, in browser extension and service worker as a proxy for requests the browser makes, with no changes to the interface (that one is definitely in alpha!)…
So the IPWB can expose the content to the IPFS and then connect and do everything in the browser without needing to download and execute code on their machine. Building it into the browser makes it easy to use…
Mat: And IPWB enables privacy, collaboration and security, building encryption method and key into the WARC. Similarly CDXJs may be transferred for our users' replay… Ideally you won't need a CDZJ on your own machine at all…
We are also rerouting, rather than rewriting, for archival replay… We'll be presenting on that late this summer…
And I think we just have time for a short demo…
For more see: https://github.com/oduwsdl/ipwb
Q&A
Q1) Mat, I think that you should tell that story of what you do…
A1) So, I looked for files on another machine…
A1 – Dave) When Mat has the archive file on a remote machine… Someone looks for this hash on the network, send my way as I have it… So when Mat looked, it replied… so the content was discovered… request issued, received content… and presented… And that also lets you capture pages appearing differently in different places and easily access them…
Q2) With the hash addressing, are there security concerns…
A2 – Dave) We use Multihash, using Shard… But you can use different hash functions, they just verify the link… In IPFS we prevent issue with self-describable data functions..
Q3) The problem is that the hash function does end up in the URL… and it will decay over time because the hash function will decay… Its a really hard problem to solve – making a choice now that may be wrong… But there is no way of choosing the right choice.
A3) At least we can use the hash function to indicate whether it looks likely to be the right or wrong link…
Q4) Is hash functioning itself useful with or without IPFS… Or is content addressing itself inherently useful?
A4 – Dave) I think the IPLD is useful anyway… So with legal documents where links have to stay in tact, and not be part of the open web, then IPFS can work to restrict that access but still make this more useful…
Q5) If we had a content addressable web, almost all these web archiving issues would be resolved really… IT is hard to know if content is in Archive 1 or Archive 2. A content addressable web would make it easier to be archived.. Important to keep in mind…
A5 – Dave) I 100% agree! Content addressed web lets you understand what is important to capture. And IPTF saves a lot of bandwidth and a lot of storage…
Q6) What is the longevity of the hashs and how do I check that?
A6 – Dave) OK, you can check the integrity of the hash. And we have filecoin.io which is a blockchain [based storage network and cryptocurrency and that does handle this information… Using an address in a public blockchain… That's our solution for some of those specific problems.
Andrew Jackson (AJ), Jefferson Bailey (JB), Kristinn Sigurðsson (KS) & Nicholas Taylor (NT): IIPC Tools: autumn technical workshop planning discussion
AJ: I've been really impressed with what I've seen today. There is a lot of enthusiasm for open source and collaborative approaches and that has been clear today and the IIPC wants to encourage and support that.
Now, in September 2016 we had a hackathon but there were some who just wanted to get something concrete done… And we might therefore adjust the format… Perhaps pre-define a task well ahead of time… But also a parallel track for the next hackathon/more experimental side. Is that a good idea? What else may be?
JB: We looked at Archives Unleashed, and we did a White House Social Media Hackathon earlier this year… This is a technical track but… it's interesting to think about what kind of developer skills/what mix will work best… We have lots of web archiving engineers… They don't use the software that comes out of it… We find it useful to have archivists in the room…
Then, from another angle, is that at the hackathons… IIPC doesn't have a lot of money and travel is expensive… The impact of that gets debated – it's a big budget line for 8-10 institutions out of 53 members. The outcomes are obviously useful but… If people expect to be totally funded for days on end across the world isn't feasible… So maybe more little events, or fewer bigger events can work…
Comment 1) Why aren't these sessions recorded?
JB: Too much money. We have recorded some of them… Sometimes it happens, sometimes it doesn't…
AJ: We don't have in-house skills, so it's third party… And that's the issue…
JB: It's a quality thing…
KS: But also, when we've done it before, it's not heavily watched… And the value can feel questionable…
Comment 1) I have a camera at home!
JB: People can film whatever they want… But that's on people to do… IIPC isn't an enforcement agency… But we should make it clear that people can film them…
KS: For me… You guys are doing incredible things… And it's things I can't do at home. The other aspect is that… There are advancements that never quite happened… But I think there is value in the unconference side…
AJ: One of the things with unconference sessions is that
NT: I didn't go to the London hackathon… Now we have a technical team, it's more appealling… The conference in general is good for surfacing issues we have in common… such as extraction of metadata… But there is also the question of when we sit down to deal with some specific task… That could be useful for taking things forward..
AJ: I like the idea of a counter conference, focused on the tools… I was a bit concerned that if there were really specific things… What does it need to be to be worth your organisations flying you to them… Too narrow and it's exclusionary… Too broad and maybe it's not helpful enough…
Comment 2) Worth seeing the model used by Python – they have a sprint after their conference. That isn't an unconference but lets you come together. Mozilla Fest Sprint picks a topic and then next time you work on it… Sometimes looking at other organisations with less money are worth looking at… And for things like crowd sourcing coverage etc… There must be models…
AJ: This is cool.. You will have to push on this…
Comment 3) I think that tacking on to a conference helps…
KS: But challenging to be away from office more than 3/4 days…
Comment 4) Maybe look at NodeJS Community and how they organise… They have a website, NodeSchool.io with three workshops… People organise events pretty much monthly… And create material in local communities… Less travel but builds momentum… And you can see that that has impact through local NodeJS events now…
AJ: That would be possible to support as well… with IIPC or organisational support… Bootstrapping approaches…
Comment 5) Other than hackathon there are other ways to engage developers in the community… So you can engage with Google Summer of Code for instance – as mentors… That is where students look for projects to work on…
JB: We have two GSoC and like 8 working without funding at the moment… But it's non trivial to manage that…
AJ: Onboarding new developers in any way would be useful…
Nick: Onboarding into the weird and wacky world of web archiving… If IIPC can curate a lot of onboarding stuff, that would be really good for potential… for getting started… Not relying on a small number of people…
AJ: We have to be careful as IIPC tools page is very popular, but hard to keep up to date… Benefits can be minor versus time…
Nick: Do you have GitHub? Just put up an awesome lise!
AJ: That's a good idea…
JB: Microfunding projects – sub $10k is also an option for cost recovered brought out time for some of these sorts of tasks… That would be really interesting…
Comment 6) To expand on Jefferson and Nick were saying… I'm really new… Went to IIPC in April. I am enjoying this and learning this a lot… I've been talking to a lot of you… That would really help more people get the technical environment right… Organisations want to get into archiving on a small scale…
Olga: We do have a list on GitHub… but not up to date and well used…
AJ: We do have this document, we have GitHub… But we could refer to each other… and point to the getting started stuff (only). Rather get away from lists…
Comment 7) Google has an OpenSource.guide page – could take inspiration from that… Licensing, communities, etc… Very simple plain English getting started guide/documentation…
Comment 8) I'm very new to the community… And I was wondering to what extent you use Slack and Twitter between events to maintain these conversations and connections?
AJ: We have a Slack channel, but we haven't publicised it particularly but it's there… And Twitter you should tweet @NetPreserve and they will retweet then this community will see that…