I am delighted to report that once again I will be part of an EDINA show for Edinburgh Beltane and Fairpley's excellent Cabaret of Dangerous Ideas, an Edinburgh Festival Fringe show in which academics and researchers spend an hour sharing "dangerous" and challenging ideas.
::: Update ::: view our new trailer for the show: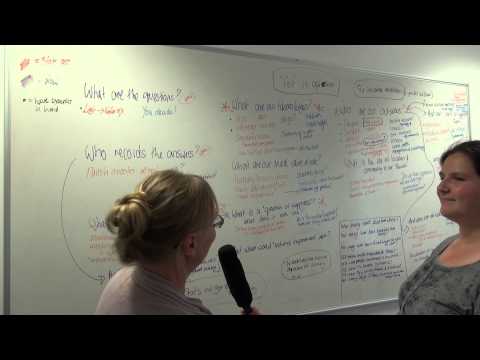 Last year my colleagues and I spoke about FieldTrip GB and the concept of crowdsourcing your neighbourhood – and what challenge or disruption might be possible in that process. It was great fun and we learned a lot in the process of putting the show together, there was even a tie up to another Fringe show through an amazing wee music video made for us by the lovely Eccentronic.
This year my colleague, Helen Aiton, and I will be returning with a very different show based on the Statistical Accounts of Scotland which we are calling "What Skeletons Are in Your Closet?", and I wanted to tell you a bit more about it in the hope that you might just be able to join us, in The Stand in the Square's Yurt in St Andrew's Square, on Tuesday 19th August!
So, why are we talking about the Statistical Accounts of Scotland? Well firstly because they are fascinating resources. The two Statistical Accounts of Scotland, covering the 1790s and the 1830s, represent some of the best contemporary reports of life during the agricultural and industrial revolutions in Europe. The first Account was the personal initiative of Sir John Sinclair of Ulbster, a Scottish Baronet and Member of the Union Parliament at Westminster. He used Westminster money to carry out a survey of 166 questions put to ministers of the Kirk in each of the 938 parishes of Scotland (subscribers can view the full list in the Related Resources section of the Online Service)
Sir John's vision was to cover the whole of Scotland with an overall, consistent, description to "meliorate the condition of the people" (read  more about Sir John's vision here) and to form an account of the "quantum of happiness" of the communities of Scotland. It was a hugely ambitious idea and, as you might imagine, not all ministers provided the same levels of details – some contemplate detailed daily life, folk lore, and provide far more detail than required, whilst others keep their responses curt and factual. Regardless of length the ministers also each brought their own personalities to their returns with their own personal interests, with many sharing their thoughts on the moral state of their parishioners and their activities. 
EDINA runs the Statistical Accounts of Scotland Online Service and that means we are immersed in the Accounts from their wonderful insight into life in Scotland in the 18th and 19th centuries, to their weirder and more amusing stories, gossip and boasts. We have been looking for weird and interesting nuggets from the Accounts, and sharing these via Twitter and Facebook, for a while now but we wanted to do something different with this show…
The Accounts capture the lives of all of those in the parish and that means they provide a rich account of the lives of those beyond the traditional history books – the lives of women for instance – but also life on the edges of society, including those living in poverty, those with disabilities, migrant populations, etc. So, in this show our focus is going to be on these people, these overlooked communities, these lives on the edge, but we will also wonder how our own accounts of daily life overlook those on the margins… indeed some of those on the margins in the 18th and 19th century remain on the margins of our own records of daily life now, even in a world with social media and ready access to the means to capture your own daily life.
So, we will be looking back at those outsiders but also posing some questions. We want those coming along and participating in the event to think about what we might do if we wanted to create a new Statistical Account: What would we want to capture in order to assess the "quantum of happiness" of the people of Scotland in 2014? Who would we need to represent to go beyond the statistics that are, these days, widely collected on the Scottish Population? What's missing and who is missing from those accounts? How could we move beyond the numbers to something nearer Sir John's vision for that rich account of life across the nation?
Of course I'd also welcome your thoughts, both on these questions and any thoughts or experience of these outsider pasts as captured in the Statistical Accounts, here in the comments section. We've already heard – via Twitter – about a brilliant piece by Ella Smith for Deaf History Journal's Summer 2014 issue (see the British Deaf History Society website for more on this publication), which looks at how the lives of deaf people are captured by the Statistical Accounts. Ella delves into the first and second Accounts to find both numeric and descriptive accounts of deaf people in Scotland and I'd definitely recommend a read of her article if you can find a copy of DHJ in your local library (or when it becomes available to purchase online).
So, please do join us on the 19th, join in the discussion here on the blog, or help us spread the word about the event. And whilst you are booking a ticket for  "What Skeletons Are in Your Closet?" you might also want to look at some of the other #codi14 shows, I gather that "I know what you ate last summer" – taking a critical view of store cards and personal data tracks and traces – and the lovely Dr Felicity Mehendale's "Are we wasting your data" – on finding the right balance between useful health data and patient privacy – are both in the same "Our Privacy" strand.
I'd also recommend you take a look at "The Internet – A Human Right?", a show relating to the Royal Society of Edinburgh's Spreading the Benefits of Digital Participation Inquiry which I was involved in earlier this year. It will be a tricky topic if discussions during and launching the Inquiry are anything to go by so I recommend coming along and adding your voice to the mix! I'll be along at this one too!
Related links:
You can also find out a wee bit more about the Statistical Accounts in this video of Helen talking the Accounts and the Online Service: